Archive for the 'Uncategorized' Category
It's that time of year when we celebrate the momentous occasion when a group of rich, aristocratic slave-owners got together and decided that they didn't want to pay their taxes anymore. From such inauspicious beginnings, a truly amazing thing evolved. God bless America.
Here's that one guy with the hair, who puts into words better than I ever could*, what matters at this time of year:
I am going to spend some time today thinking of those known personally to me, fighting abroad for the free world, and those less fortunate than us with whom we share this land.
Then I am going to drink a dozen Miller Lites and go skinny dipping. It's the American way. And I love it.
(* not really. As if.)
I mentioned Jon Gosselin (philanderer and IVF fanatic) in my last post. My implication was that he was a no-good asshole, who selfishly abandoned his eight children in order to fulfill his own warped needs, mainly sexual.
What? You didn't get all that?
Well that's what I was implying.
Anyway, it turns out that his evil plan is working, and, I must admit, he appears to have rebooted his sex life very successfully. This is how he rolls, these days…..
For those who have been wondering where I have been for the last few weeks, I am afraid it will take a presidential finding for me to disclose that. Let's just say, it was very scary and involved shrunken heads.
We are entering a new GOLDEN AGE for rivercityvibe, my children. Did you know you can now read us on jacksonville.com?
Well you can.
Much more to follow. Including my report from DragonCon, which I am attending in order to mock.
No shit…….
Smokin', smokin' hot Olivia Munn. She could throw the dog a bone.
Literally.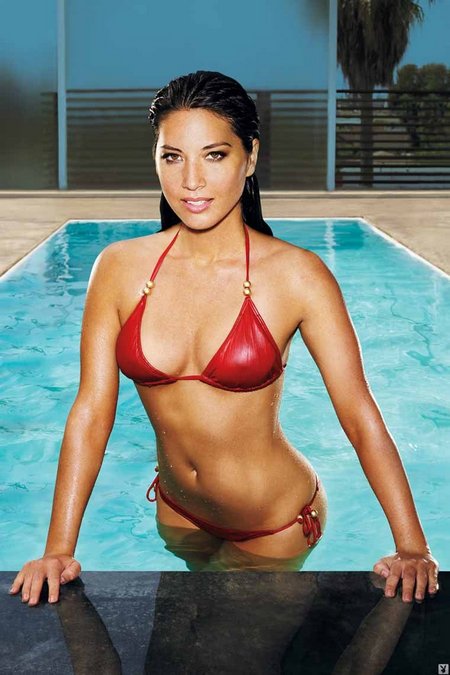 This picture is, of course, from her recent Playboy shoot. Interesting-ish fact about Munn:
Munn was predominantly raised in the Shinjuku district of Tokyo, Japan,[4] where the military assigned her stepfather. During this time, she had appeared in a number of local theater productions, and later became a model within the Japanese fashion industry…
But her Asian looks are from her Chinese mother. Not many people realize that.
(How do I feel about Munn? Well, I'd walk 300 miles over burning coals just to "David Carradine" myself in her shadow. Seriously. Big fan).
Well the Jaguars won. How about that? I didn't see that coming, I can tell you.
In celebration of this increasingly rare event, I am going to post about sport. The game we know and love is Football. Everyone plays it, well, everyone in the US (and Canadians with a note from mom excusing them rugby….). In the rest of the world they have something called "football" which we choose to call "soccer". In South America it has been raised to an artform that has to be seen to be believed. That's the reason for this post, actually. To show you this craziness:
Pretty neat, hey? Clearly illegal in Bolivia and, also, somehow gay, compared to Proper Football………….
It's about time we got back to business with accomplished actress and rivercityvibe favorite LiLo:
Most of us ate bar food last night. Around about my 5th beer, I had something of a Damascene experience. I identified a hitherto overlooked component of US greatness.
The Buffalo Wing.
Stories about how these all-American foodstuffs came to be are legion. My favorite, from the usual source, goes like this:
One story is that Buffalo wings were first prepared at the Anchor bar, located at 1047 Main Street (between North Street and Best Street) in Buffalo, New York, USA on October 3, 1964, by Teressa Bellisimo, co-owner of the Anchor Bar with her husband Frank. Upon the unannounced, late-night arrival of their son, Dominic (and several of his friends from college), Teressa needed a fast and easy snack to present to her hungry guests. It was then that she came up with the idea of deep frying chicken wings (normally thrown away or reserved for stock) and tossing them in cayenne hot sauce
We tend to dispense with the word 'Buffalo' locally, referring to them as 'chicken' or 'hot' wings'. The fact remains the innovation of  delicious food that goes with beer is one of the things that makes America great.
Hot, medium or mild?
Sarah Palin's visit to Jacksonville has been declared a success, with Jacksonville Landing crammed to capacity by zitty little young republicans in bow-ties and grungy unhygienic democrats chanting and hoisting placards. The Jacksonville Sheriff's Office estimate the crowd to be around 10,000. This turnout is all the more remarkable when one compares it to ol' Maverick's showing when he came to Jacksonville.
Seems he's missing a certain something when it comes to drawing the crowds. My money would be on "a rack". Here's how many Jacksonvillians showed up to see the hero of Truc Bach Lake recently:
Our favorite Vice Presidential Cougar Candidate totally owns his ass. Only, Joe Biden, the Red Skelton of presidential campaign politics, is stopping Mav from becoming the laughing stock of the 2008 campaign.
Pwned!!
The puritan spirit we imported from the Old World all those years ago is alive and well. Thank God.
Joining Janet Jackson's celebrated 'nip-slip' (I think you'll find that's the correct paparazzi term…) which had more of a tangible effect on Main Street that the total failure of our capital markets, we have a new 'outrage', courtesy of those Great Americans at the Parents' Television Council. Their full ire is directed toward CBS' flagship reality show Survivor: Gabon.
Apparently  a little penis slipped out of a pair of shorts during a race to fulfill some task crucial to the survival of the competitors. If you recorded it, have HD, can pause at the right time, and like looking at willies, then get real close to the screen and advance slowly frame-by-frame. You can CLEARLY see a flesh-colored something which the experts at the PTC identify as a penis. Let's take their word for it. Thank Jesus our children were saved from this.
Footage from my buddies at TMZ HERE.
When asked, CBS crushingly commented that the penis of the individual concerned was "undetectable in real life time".
Ouch.
I'll be honest with you, politically, I lean towards "utter MILF". Ask anyone.
Apparently, her daughter goes a bit too………..