Archive for the 'schadenfreude' tag
I nearly broke this news, but after an afternoon drinking an opaque liquid from a smoky bottle that a limbless friend brought back from Dushanbe, I forgot about it completely for four days.
So it's old, now.
Like your sexual technique.
Here he is, Phil Davison, Stark County (wherethat?) Treasurer wannabe, getting enthused:
He has a lot of academic qualifications. And he REALLY wants to be Treasurer. But I love it when he muffs his "most favorite quote". The one that Albert Einstein "issued"…….
In these grim economic times, people are unbearably glum.  One of my reasons for living is to put this situation right. I think of myself as a tour-guide of sorts, leading the miserable to broad sunlit uplands where they can be happy once more.
A technique I embrace in pursuit of this, is to introduce people to the rather nasty little German concept of schadenfreude. The usual source defines schadenfreude as "largely unanticipated delight in the suffering of another." It's German. It's unpleasant. But it works like a dream.
So if you're feeling out-of-sorts and can't seem to shake the black dog of depression, have a laugh at this poor fucker: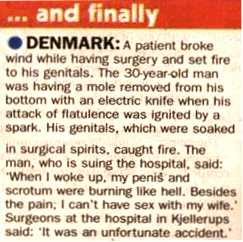 Good material, nein?